Rising Damp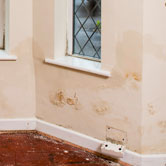 Rising damp is a form of dampness that occurs, particularly in older buildings, when groundwater rises up through walls, floors and masonry via capillary action. Capillary action is the ability of a liquid to flow along narrow spaces, counter to the forces of gravity. Bricks and mortar can be very porous and contain many fine capillaries, through which water can rise.
Most modern properties are built with a damp-proof course, usually in the form of an impermeable plastic membrane, which is placed along a mortar line near the ground. Some properties, however, were built with no damp-proof course, or the original has failed, meaning that rising damp can occur and it is necessary to make remedial repairs.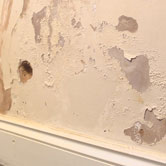 Whenever rising damp or salt damage to internal walls is diagnosed, it is important to have the condition correctly treated. Failure to treat rising damp can cause further damage and devaluation to a property. Apart from altering the appearance of the wall, rising damp can deposit salts form the ground that can cause irreversible damage.
It is not sufficient to simply cover up the problem with a special paint or coating, in the hope that the problem will go away. Salts continually deposited by the groundwater can contaminate new coatings and plaster. Only by preventing the dampness from rising up the internal masonry can an effective treatment be achieved.
Rising Damp becoms Rising Salt Damp when salts are present and are drawn up with moisture.


Historical Method Of Treatment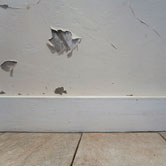 In the past, rising damp was treated using corrosive or flammable liquids, injected under pressure, to block the pores of brick, stone and masonry and create a liquid damp-proof course. An expensive and complex pump system is required to inject the damp-proofing fluid into a wall, along with considerable expertise on the behalf of the operator.
The fluid is injected into holes drilled directly into the brick, stone or masonry. It is estimated that approximately 20 minutes should be spent injecting each hole to ensure a full treatment. At this speed, it would take at least two days to effectively treat an average sized house.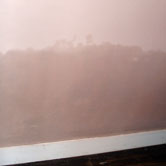 When any fluid is injected under pressure into a porous material such as a masonry wall, it does not pass through the wall evenly. Instead, it forms 'fingers' of fluid, leaving 'holes' which can contain residual moisture. Many of these are continuous, which leave complete paths through which water is still able to rise.
In practice, therefore, it is unlikely that a chemical injection damp-proof course on its own will stop rising damp with a sudden cut off to rising water, such as that brought about by a physical damp-proof course, especially considering a large amount of mortar remains completely untreated.
DRYROD - Fast, effective treatment for Rising Damp
Safeguard Europe's DRYROD® Damp-Proofing Rods are the new quick, clean and highly effective way to treat walls with rising damp. They are patented 12mm diameter grooved rods that carry a powerful water repellent material. The rods are simply inserted into 12mm holes that are drilled in the horizontal mortar lines of a building.
Once the rods have been installed, they will start to distribute a powerful water-repellent deep into the damp wall and across the mortar line. Once the material has cured, it forms a powerful and permanent barrier to further damp ingress. Testing has shown that DRYROD® Damp-Proofing Rods have far better diffusion characteristics than conventional damp-proofing products, ensuring that a complete barrier to damp is achieved.

No Fuss, No Mess, No Stress
Unlike pressure injection, a successful and effective DRYROD® treatment can be carried out on an average sized house in only a few hours. There is no specialist equipment required to carry out the installation and, because each rod is dosed with exactly the correct amount of active ingredient, it is not possible to over or under dose.
DRYROD® Damp-Proofing Rods have been extensively tested by Safeguard Europe, who have been the foremost innovators in damp-proofing for over thirty years. A wall treated with DRYROD® has been proven to be over 4 times more resistant to rising damp than a wall treatment with the next best method.

Unlike other treatment methods, DRYROD® Damp-Proofing Rods will also work in a large variety of conditions, such as:
New or old mortar or masonry (high or low alkalinity)
Highly saturated walls (tested up to 95% saturation)
Cold or warm temperatures (works in freezing conditions)
Very porous materials
Cavity walls, rubble infill, random stone and single skin walls
All of the effort that has gone into developing and testing DRYROD® Damp-Proofing Rods ensures that there is no fuss about how to install, no mess to clean up after you're done and no stressing about how well it will work. DRYROD® eradicates damp, permanently.
Additional Measures
Salt contaminated walls may need to be replastered. Dryrod Damp-Proofing Rods are effective enough that no extra waterproofing is required by new plaster or a sand and cement render. If the wall is not contaminated by ground salts then it should be possible to keep the old décor.
If the wall is contaminated by salts, however, then replastering will be required and effective when following our replastering procedures
Further Technical Advice
If you have any further technical enquiries or have further questions about the installation process, please call 1800 234 388.